It's motorcycle riding season! As Dallas motorcycle riders begin to enjoy sunnier, warmer days, they're taking their bikes out of the garage and onto the road. But before you start your engine, make sure you follow these three spring/summer motorcycle riding tips to get your bike ready, get the cheap motorcycle insurance you need, and make this year's motorcycle riding season the best one yet. 
What are Three Tips to Get Your Motorcycle Ready for Spring and Summer?
To get your motorcycle ready for the Texas spring and summer seasons, you'll need to get the best cheap motorcycle insurance, check your motorcycle for possible maintenance issues, and get a tune-up to make sure everything is running smoothly.  Let's look at those a little closer.
1. Find the Best Cheap Motorcycle Insurance
Many Dallas motorcyclists change their motorcycle insurance coverage in winter while their bikes are in storage. Some people simply change the terms of their policy, while others choose to get lay-up insurance. In either case, you'll need to get in touch with your motorcycle insurance company and ask them to update your policy for the season. 
If you already have motorcycle insurance, make sure you're getting the best rates. Spring is the perfect time to do some motorcycle insurance comparison shopping for the best rates for cheap motorcycle insurance before you hit the road again. 
When shopping for the best Dallas motorcycle insurance, it's better to work with insurance companies that offer quotes from multiple insurance carriers. By providing your information just once, you'll also be sure that you're getting an "apples-to-apples" quote comparison. In addition, you can be sure that you're getting the most competitive rates. These insurance companies often work with smaller insurance carriers that you may not think to research. These smaller carriers can offer the same motorcycle insurance coverage as major national carriers at special discounted or exclusive rates.
Remember that you must have the legally required motorcycle liability insurance before you begin to ride your bike. In Texas, the legal minimum liability coverage for motorcycle insurance is: 
$30,000 for bodily injury liability (per person)
$60,000 for bodily injury liability (per accident)
$25,000 for property damage liability
These insurance requirements apply to motorcycles as well as mopeds and three-wheeled motorbikes.
If you're caught riding without motorcycle insurance in Texas, you can face fines of up to $350 for the first time and up to $1,000 if you're a repeat offender. Your license may also be suspended, and you'll need to file an SR-22 certificate of financial responsibility to get it back.
While you're updating your motorcycle insurance, it's also a good time to check other important documents like your registration and license. Even if you have an active motorcycle insurance policy, you can't legally ride your bike if either your registration or motorcycle license is expired. For most Texans, a motorcycle license is valid for six years. If your motorcycle registration is due to expire soon, you can renew it up to three months before the expiration. 
2. Check Your Motorcycle for Any Issues After Periods of Idleness
Before starting your motorcycle for the first ride of the season, do a quick visual inspection. Below are some things to look for:
Are there any new dents or scratches?
Do the tires maintain pressure after you inflate them?
Is there any oil or liquid residue on the floor below where your bike was stored?
Is the battery charged?
Is the fuel tank filled?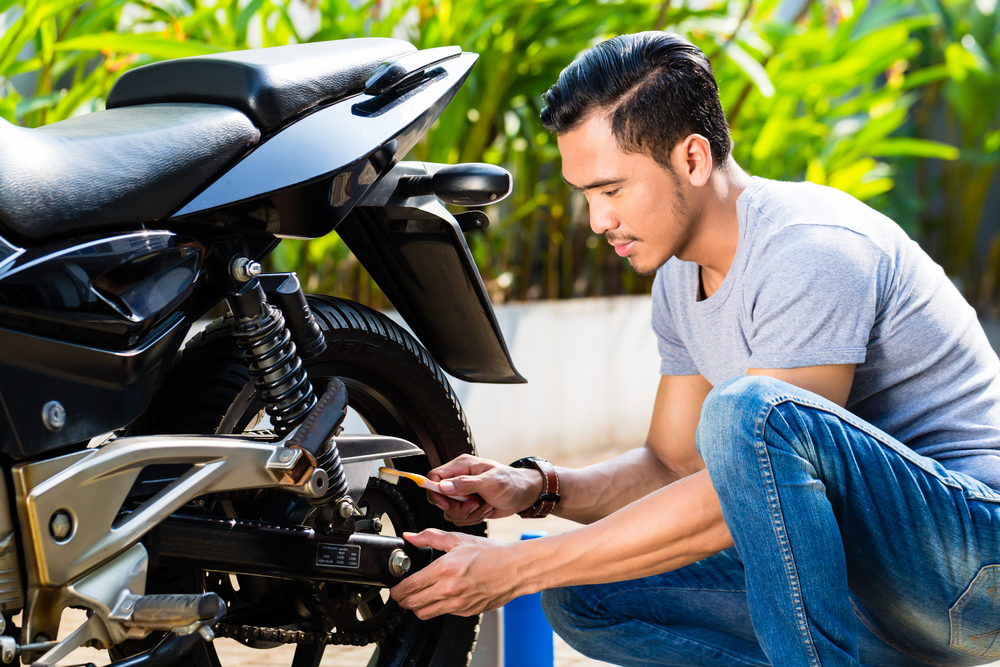 Once you've gone through your initial visual inspection, take your motorcycle to an open spot such as your driveway. Next, turn on your motorcycle and check for any problems. For example:
Did you notice any problems when you started the ignition?
Do you notice any rattling or other unusual noises when the bike is idling?
Do the brakes work?
Do all the lights work?
If you notice anything wrong, fix the problem before going out on your motorcycle. It may be unlawful or even unsafe to ride your motorcycle before fixing the problem, depending on the issue.
Finally, check your motorcycle helmet before you start riding. Most helmet manufacturers recommend replacing your helmet seven years after the manufacture date or after five years of use, whichever comes first. Helmet materials naturally degrade and become less protective with time so they should be replaced. If your helmet is involved in an accident or impact, you should replace it immediately to better protect against bodily injury.
Texas motorcyclists do not have to wear a helmet if they are over 21, have completed an approved training course and have proof of enough medical insurance to cover injuries sustained in a wreck.
3. Get a Motorcycle Tune-Up Before the First Ride of the Season
Believe it or not, motorcycles and cars are more likely to break down when they haven't been used in a long time, such as after you leave your bike in storage over the winter. Also, when there aren't any fluids running through your motorcycle systems, parts are more likely to rust, and hoses are more likely to become clogged. That's why your first step in the spring should be to do a tune-up on your motorcycle or take it to the shop for one. 
A tune-up is different from an official inspection. A state inspection goes through a checklist to ensure that your motorcycle is safe and legal to ride. On the other hand, tune-ups go beyond the legal minimum and help make sure that your motorcycle is in top shape and performing at its best. In other words, tune-ups can catch a lot of problems that wouldn't come up in a state inspection. 
While you're required to take in your motorcycle for an inspection to renew your registration, tune-ups are optional. That said, you shouldn't skip a tune-up just because you can. Though it may seem like tune-ups are an unnecessary expense, a motorcycle tune-up is much cheaper than paying for an emergency repair later. Tune-ups also help your motorcycle last longer and help you get the most out of your investment so you can save money. 
After your first spring tune-up, it's also a good idea to get a motorcycle tune-up throughout the riding season. Ideally, you should take your bike in for a tune-up every 5,000 miles. 
Find Low-Cost Motorcycle Insurance in Dallas
Cheap motorcycle insurance is easier to find than you think. At Baja Auto Insurance, we work with bikers all around Dallas and Fort Worth by offering the best affordable motorcycle insurance coverage. All it takes is a few minutes to get a fast online quote for Dallas motorcycle insurance, or you can visit one of our offices in person or give us a call at (800) 401-6870.