Before purchasing a motorcycle—or even operating one as an out-of-state driver—it is important to familiarize yourself with the motorcycle laws in Texas.
License Requirements
Motorcycles have their own type of driver's license, which is called a Class M license. To get it, you must take a motorcycle safety class sponsored by the Texas Department of Licensing & Regulation. After passing the class, you need to pass written and driven tests.
Registration Requirements
Whether a car, a motorcycle, or even a moped, all motor vehicles that operate on Texas public roadways need to be registered with the Texas Department of Motor Vehicles (DMV). After your motorcycle is registered, you'll receive a sticker to attach to your license plate, just as you would for a car. However, the process of registering your motorcycle will differ depending on how and when you bought it.
Annual Inspection Requirement
All vehicles, whether motorcycles or cars, need to have an annual inspection performed in Texas. The inspection site has to be an official Motor Vehicle Inspection Station. Upon passing, the certificate of completion must be placed near the rear license plate. This certificate is valid for one year from the month of inspection.
Helmet Laws
According to Texas law, all motorcycle riders under the age of 21 must wear a helmet. However, you don't have to if you're 21 or older if you can provide proof of the following:
Completion of an approved motorcycle operator training course
Proof of medical insurance coverage that covers any injuries due to motorcycle accidents
Note that, although you don't have to wear a helmet if you meet the exceptions above, the Texas State Police can still pull you over to ask for evidence that you're allowed to forgo your helmet.
Legal Requirements for Motorcycle Passengers
Passengers also have legal requirements to comply within Texas. For one, the minimum age is five. Additionally, passengers between the ages of 5 and 20 need to wear a helmet, and the motorcycle needs to be equipped with a permanent passenger seat.
Minimum Requirements for Motorcycle Insurance in Texas
You cannot drive a motorcycle in Texas without insurance. You also need to have a minimum amount of liability insurance, which pays for costs associated with an accident where the driver is at fault.
Although each state has its own laws regarding insurance requirements, Texas follows the 30/60/25 rule. Essentially, that means motorcycle drivers must have liability insurance with the following coverage limits:
$30,000 in bodily damage per person
$60,000 in bodily damage per accident
$25,000 in property damage
Although the amounts of coverage listed above are minimums, you can always choose to purchase higher coverage limits. The more you can afford in liability insurance, the less risk of you having to pay high costs out of pocket should you be found liable for an accident.
Insurance Requirements for Different Types of Motorcycles
Texas law classifies a motorcycle as any motorized vehicle with a saddle for the rider. Therefore, whether you have a moped, a motor-driven cycle, or a three-wheeled motorbike, it must comply with the same laws and insurance requirements as a standard motorcycle.
There are some exceptions to the insurance requirements, however. The following types of vehicles do not require insurance since they're not permitted to operate on public roads:
All-terrain vehicles
Dirt bikes
Mini-bikes
Golf carts
Optional Types of Insurance Coverage in Texas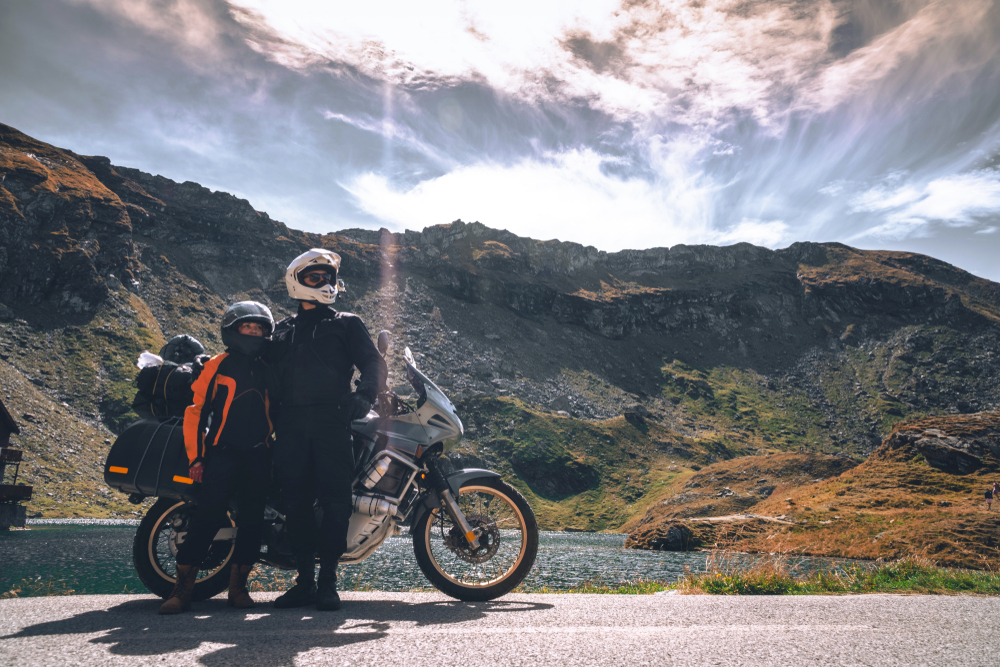 As you're shopping for and comparing motorcycle insurance, companies may ask you whether you want to purchase additional, optional coverage.
Collision and Comprehensive Insurance for Motorcycles
When leasing a motorcycle, your financing company may require you to purchase collision and comprehensive coverage. Collision coverage covers the cost of repairing your motorcycle if it is damaged in an accident. Comprehensive insurance covers the cost of other non-accident-related events, such as floods, fire, or theft. Even without the requirement to purchase either, a motorcycle of high value could cost more to repair and could equate to a much higher loss than a less expensive bike.
Uninsured and Underinsured Motorists Insurance for Motorcycles
Despite the legal requirement to operate a vehicle with insurance in Texas, there are still motorists who are either uninsured or underinsured. That means that if you're in an accident with either, you will be left footing the bill for any medical or repair costs, even if they're found to be at fault. They'll be heavily penalized for it if they're caught, but that doesn't do you any favors. For that reason, paying a little bit extra for this type of coverage could give you a little extra peace of mind.
Roadside Assistance for Motorcycles
Another type of optional insurance is roadside assistance. This coverage pays for towing expenses as well as the costs associated with renting a vehicle if your motorcycle is damaged and in the shop being repaired.
What if You Get Pulled Over Without Insurance?
If you get pulled over, and it is your first time being caught without proof of motorcycle insurance, you will be issued a citation and charged with a fine of between $175 and $350. Additionally, when you renew your license during the following three years, you'll have to pay a $250 surcharge each time.
If you are pulled over a second time and found to be without motorcycle insurance, you'll be issued another citation and a fine of between $350 and $1,000. Again, you'll be subject to that $250 annual fine for the next three registration years. You may even have your license revoked if you're deemed to be a habitual offender of driving without insurance.
If you're worried about the cost of motorcycle insurance, know that there are ways to lower your premiums in Texas. It's always cheaper to choose insurance in the long run instead of assuming you won't need it.
Get Cheap Motorcycle Insurance in Texas
Driving without motorcycle insurance in Texas is a risky endeavor, especially as the DOT pushes for an increased focus on motorcycle safety. It's important for motorcycle owners to realize that insurance is meant to protect everyone on the road, and it doesn't have to be expensive. Contact us today to see for yourself that your insurance is more affordable than you think. Baja Insurance will help you enjoy your motorcycle legally and safely in no time.