Every Dallas driver would agree that Dallas commutes are simply terrible. Of course, it doesn't help that the city, along with neighboring Fort Worth and the surrounding suburbs, is roughly the size of New Jersey.
But until we invent teleportation or flying cars, Dallas commutes will be a daily reality. So, what's a driver to do?
The good news is that there are a few ways you can make your Dallas commute more pleasant and less stressful, from finding cheap car insurance to taking up new hobbies. Here are four tips to make your commute better.
1. Find Cheap Car Insurance 
We know what you're thinking: What does cheap car insurance have to do with my Dallas commute? It all comes down to risk and reward.
On the one hand, Dallas commutes can be downright dangerous. Everyone wants to get on the same roads and highways at the same time and won't hesitate to speed, cut you off, tailgate you, or suddenly change lanes. At the same time, commuters are more likely to be thinking about the upcoming project deadline than they are about signaling to turn. All of this means that your Dallas commute puts you at risk for an accident, even if you're a safe driver. And the best way to protect yourself and your car in an accident is to have good car insurance that includes full coverage, regardless of who's at fault.
On the other hand, no one should pay more than they have to for insurance. That's why it's important to shop around for cheap car insurance that fully covers you and your vehicle for the best price. In other words, you're minimizing your risk (being financially responsible for a car accident) and maximizing your reward (paying as little as possible). If that doesn't help make your daily Dallas commute feel a little less stressful, we don't know what will.
2. "Read" an Audiobook 
Tired of listening to the same tunes on your playlist or hearing the same radio announcers talk about how much traffic there is today? Expand your horizons and get into the habit of listening to audiobooks during your Dallas commute.
In case you're not already familiar, audiobooks are narrations of paper books. Most titles you see in bookstores come in audiobook versions as well. You can find audiobooks in almost any genre, from novels to self-help. Some audiobook services give you credits to buy a new book each month, and the Dallas Public Library has over 18,000 audiobook titles available for free.
Just like with paper books, not every audiobook will be for you. You may not get into the story, or you may not like the narration style. That's OK. Most audiobook sellers let you return a title within a certain period and let you pick out another audiobook.
Once you find an audiobook you like, you'll find that your commute will fly by. You may even be excited to get back into your car just so you can find out what happens in the next chapter!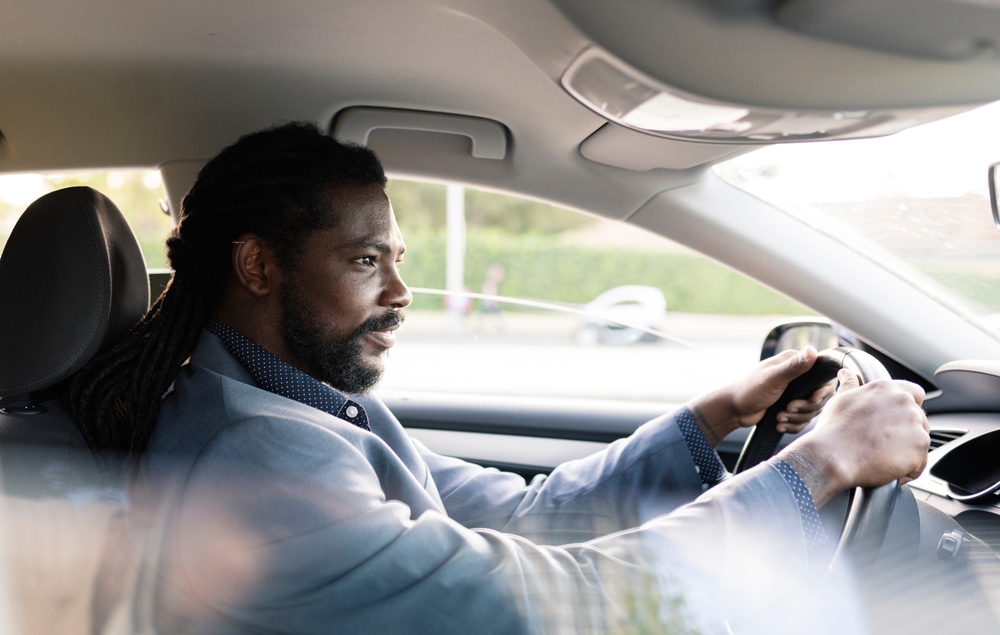 3. Try a New Route 
We get it — you want to get to work as quickly as possible by taking the most efficient route to get there. But you know what? Every other driver in Dallas wants that, too. The result is that every highway is full of people doing whatever they can to shave a few seconds off their drive, even if that means putting you and other drivers in harm's way and getting pulled over.
We have a better suggestion. Instead of joining in the eternal struggle to merge onto I-35, try mapping out an alternative route to work that avoids the most congested arteries and interchanges. It doesn't always have to be the winding, scenic route, but it should be clear enough to keep your stress levels down. Sure, it might take a little longer to get to work, but is saving five minutes really worth the stress, the honking, and the added risk of getting into an accident?
If you really can't afford to take the extra time to get to work, then have at least two or three other routes that you're comfortable navigating. That way, if your main route is more congested than usual on a given day, you have a quick escape route to avoid the added traffic and frustrated Dallas commuters.
Give yourself a new Dallas commute mantra: When they go highway, you go byway. 
4. Adjust Your Timing 
Dallas commute traffic patterns are extremely complex and can drastically change from one moment to the next. You might have already noticed this if you've ever been a few minutes late leaving for work. What's usually an easy drive to the nearest onramp can suddenly become a struggle just to make it out of your neighborhood.
There are many reasons why traffic congestion changes so quickly throughout the morning. Shifting traffic light timings, school buses, and scheduled truck deliveries all play a role. But the good news is that you can take advantage of the situation by adjusting your commute time. For instance, by leaving earlier than usual, you might avoid the school bus rush in your area. In some cases, you may even find that leaving later than normal gets you to work earlier. Don't be afraid to experiment — just be sure to do so on days when you don't have any important meetings scheduled for the morning.
Keep in mind that commuting earlier (or later) doesn't necessarily mean working longer. For example, if you decide to start your Dallas commute earlier, you can stop by a coffee shop or café near your workplace for a quiet coffee or breakfast before officially starting your day. You can even bring your newspaper to read or catch up on that latest novel.
Make Your Dallas Commute Easier and Find Cheap Car Insurance 
By taking just a few simple steps — from leaving home a few minutes early to shopping for cheap car insurance — you can make your Dallas commute a whole lot more pleasant. That's why so many Dallas commuters look to Baja Auto Insurance to protect them and their cars every day, no matter the traffic conditions. All it takes is a few minutes to fill out an online form for a car insurance quote today. Or visit one of our offices in person or give us a call at (800) 401-6870.