We get it: sometimes you just want to get in your car and drive. But no one likes sitting around in city traffic, so where exactly are the best scenic drives near Dallas?
Luckily, Dallas drivers have access to some of the most beautiful scenic drives in Texas, from rolling hills to blooming fields of wildflowers. So, the next time you're in the mood for a relaxing time behind the wheel, check out this list of the best scenic drives near Dallas. And while you are checking off lists, make sure your car insurance is up to par before you get behind the wheel.
Here is a list of the Best Dallas Scenic Drives:
Red River Roadway 
If you're looking to get a taste of the Texas hill country, then try driving along the Red River Roadway. This loop passes through Denton, which is just northwest of Dallas between Lewisville Lake and Ray Roberts Lake. All along the journey, you'll pass through scenic landscapes and small towns. Make sure you're covered by a roadside assistance plan in case the unexpected happens along your route.
Cedar Hill State Park
If you want to enjoy a scenic drive and refreshing hike without going too far from Dallas, drive over to Cedar Hill State Park, located southwest of the city on Joe Pool Lake. Though it's less than 20 miles from downtown Dallas, the lush foliage and winding roads will make you feel like you've completely left the city. After a picnic and a hike in the park, you can drive along Mansfield Road and Lake Ridge Parkway, cross the lake, and make your way back home feeling refreshed.
Dixie Overland Highway
This early transcontinental route runs from Savannah to San Diego. Today, you can drive along the Dixie Overland Highway, also known as US Highway 80, east from Dallas to Shreveport, LA. While this highway runs parallel to Interstate 20, the Dixie Overland Highway is definitely the scenic route. You'll pass through charming small towns of East Texas such as Wills Point, Grand Saline, Longview, and Marshall. And in between towns, you'll enjoy the lush, green landscape that defines East Texas.
Unlike interstate highways, the old federal highways will quickly change from high-speed limited access expressways to local streets with houses and schools. Keep a close eye on the speed limit to avoid getting a speeding ticket in Texas.
Route 67
Before the interstate highway system, the best way to drive around was through state and federal highways like Route 67. Sure, it was slower, but it was more scenic too. For example, if you take Route 67 south from downtown Dallas, you'll first drive through the southwest part of the city. But past FM 1382, things start to change. As you start driving along 67 and between the suburbs of Midlothian, Venus, Alvarado, Cleburne, and others, you'll understand why drivers love the scenic views along this route.
Trail of the Dinosaurs
If you're looking to combine your scenic drive with an exciting family excursion, we recommend trying the Trail of the Dinosaurs. If you drive on Route 67 beyond Cleburne, you'll find rolling hills, grassy plains, and, if you're lucky, fields of wildflowers. This untouched landscape will certainly bring to mind what the land was like in the time of the dinosaurs.
After driving this route for about 30 miles, you'll arrive in Glen Rose, home of Dinosaur Valley State Park. There, you can have a picnic, explore the hiking trails, and literally walk in the tracks of dinosaurs along the Paluxy River.
Brazos River via FM 4
If you're looking to truly see everything that Texas scenery has to offer, you'll want to drive along FM 4. The landscape along this road going west of Cleburne toward Palo Pinto will take you along the border between the Piney Woods, Blackland Prairie, and the Hill Country. About halfway into the drive, you'll come to the Brazos River, one of the largest rivers in Texas and long considered the border between East and West Texas.
Farm-to-market roads in Texas are a great way to take in the scenery, but these roads aren't maintained as frequently as state or federal highways. Make sure you have a tire hazard protection plan to protect you against a surprise flat.
The Road to Texarkana
Texas is the largest state in the continental US, but Dallas drivers are lucky enough to be close to the border with a few other states. If you just want to see what life is like outside of Texas for a day, take I-30 to Texarkana. Just a two-hour drive from Dallas, this lovely city sits right on the border between Texas and Arkansas. Along the way, you'll enjoy the trees and greenery. And once you arrive, enjoy the fantastic Texarkana food or drive a bit farther to explore the beautiful state parks of Arkansas.
The Bluebonnet Trails
The bluebonnet is the state flower of Texas, and it's not hard to see why. Every early spring, people all over Texas plan trips to get the best views of these gorgeous flowers, which often bloom all at once in large fields. And if you live in Dallas, you're especially lucky. Just south of the city is Ennis, which is home to the Official Texas Bluebonnet Trail.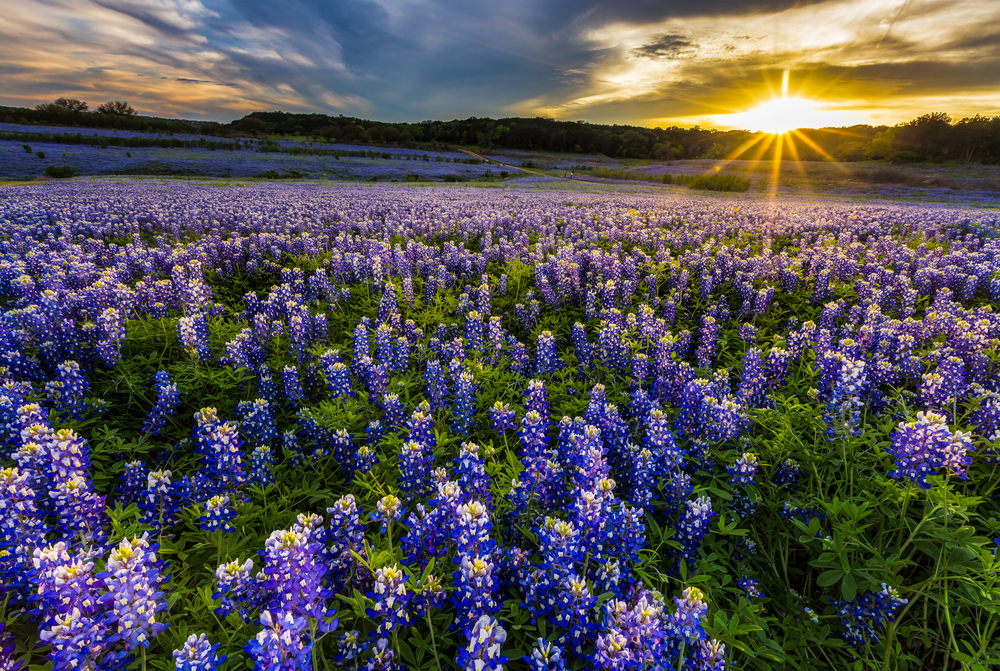 For the whole month of April, the city maps out over 40 miles of driving trails that showcase the best bluebonnet fields you can find. Before you start your drive, be sure to check the Bluebonnet Trail website or visit the Ennis Welcome Center for updates on which trails have the best blooms that day.
Protect Your Car with Baja Auto Insurance
Just because you're taking the scenic route doesn't mean that you should let your guard down. Whether you're on a pleasant scenic drive or a daily work commute, car insurance will protect you and your car against the unexpected. But no one deserves to pay too much for car insurance. That's why so many drivers use Baja Auto Insurance for cheap car insurance in Dallas. Get a free online quote for cheap Dallas car insurance today, visit one of our Dallas offices, or give us a call at (800) 401 68070.