Starting college is an exciting time in anyone's life. It's a major step toward building a career and often means getting to make your first big life decisions—like Texas car insurance.
While finding auto insurance for Texas students might not be at the top of your to-do list, that doesn't mean it's not important. This article walks you through how to find the best affordable coverage for UT Austin students and beyond.
Can College Students Still Be Part of Their Parents' Auto Insurance?
Typically, they can be covered by their parents' insurance, even if the parents don't live in Texas. However, there are a few things you should know ahead of time.
If the vehicle is owned by their parents, the parents should get in touch with the insurer and let them know about the upcoming changes. Your agent will let you know if any changes are needed to the existing policy.
In most cases, all that's needed is to update where the vehicle will be kept—in other words, the college address. Your premium may be adjusted to reflect the new ZIP code and other factors that affect rates.
However, if the student is the legal owner of the car, then they'll need a separate policy anyway. As you compare quotes, make sure to discuss your upcoming plans so the agent can help you find the best policy.
For instance, if you're attending school from out of state, then you may be subject to mileage restrictions from your home state's insurance company. It may make more sense to get a Texas insurance policy, where you can drive around as much as you want and know that you'll always be protected. Fortunately, there are plenty of available student discounts in Texas.
How Does Auto Insurance for College Students Work When You Leave Home?
The majority still use their parents' address on their policy, whether they own the car or not. This is fine as long as you keep treating your old home as your residence—for example, coming back every summer, using the address on your taxes and voter registration, and so on.
When you eventually move to a place of your own, then you'll need to change your official address and take out a separate policy. Depending on where you live, you may have to pay a higher premium than if you list your parents' address as your residence. But keep in mind that companies can easily figure out where you keep your vehicle most of the time, especially when you file a claim.
If you're caught lying to the insurance company in Texas, not only will you be denied any claims, but you can be charged with fraud, which means fines and even jail time. On top of all that, chances are that your policy will be canceled, and you'll need to scramble to find enough coverage for your car if you want to avoid an SR-22 in Texas.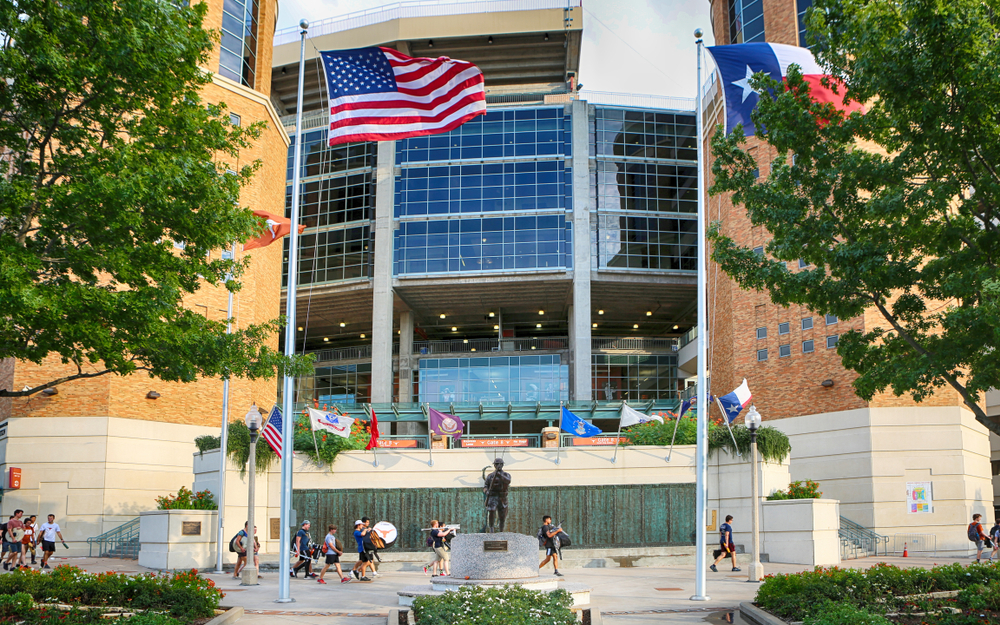 How Much Auto Insurance Do College Students Need in Texas?
Now that you understand whether it's better to stay on your parents' policy or get your own, you're likely wondering what type of coverage to get for young drivers. The answer depends on who owns the vehicle and how big a role your wheels plays in your daily life.
What is the Minimum Required Insurance?
All Texas drivers must have the state-required minimum liability coverage, which is:
$30,000 in bodily injury liability (per person)
$60,000 in bodily injury liability (per accident)
$25,000 in property damage liability
Texas liability auto insurance pays other people's medical bills and property damage when you're at fault. That means that if you cause an accident, you'll be on the hook for your own medical bills and repairs.
Texas auto insurance companies are required to offer personal injury protection (PIP) coverage, which does cover you for accident-related medical bills and lost wages, regardless of who's at fault. Medical payments (MedPay) coverage is also available in Texas, but it offers fewer benefits that PIP.
Even though you're not legally required to have PIP or MedPay coverage, it's highly recommended to add it to your policy—especially if you have a limited health plan.
Should You Have Collision and Comprehensive Coverage?
Collision and comprehensive provide coverage beyond the minimum auto insurance required in Texas. Collision pays for repairs when you are involved in most types of wrecks, regardless of who's at fault. Comprehensive covers events such as theft, vandalism, damage from floods and other natural disasters, and damage from hitting an animal.
While collision and comprehensive aren't legally required in Texas, you may still need it if you (or your parents) financed your vehicle. Most financing companies require you to carry Texas collision and comprehensive coverage until you pay off the loan.
Even if you do fully own it, adding collision and comprehensive coverage (also known as full coverage) is a smart move. Young drivers tend to be inexperienced, and small accidents are bound to occur. When they do, are you in a financial position to cover your own repair costs, and can you live without an automobile while it's in the garage for several days? If the answer is "no," then full coverage will save you money in the long run.
What is the Best Car Insurance for Texas College Students?
In summary, the trick to finding the best Texas auto insurance for students boils down to three things:
If your parents legally own your vehicle and you plan to keep using their home as your primary residence, then the best option is to stay on their plan. Your parents should talk to their agent and let them know where you plan to keep your ride during the school year.
If you legally own your own vehicle, then the best option is to have your own policy. If you're coming to Texas from out of state, then it makes sense to get Texas auto insurance for college students, since you won't face any out-of-state mileage restrictions and you'll always know that your policy meets the minimum insurance requirements in Texas.
In addition to liability coverage, it's a good idea to get PIP coverage and keep your collision and comprehensive coverage. That way, you'll know you'll be covered if you cause a fender-bender or if someone vandalizes your car.
Get Affordable Car Insurance for Texas College Students
Part of becoming an adult is making solid decisions that consider the future as well as the present. Baja Auto Insurance helps Texas college students make the right choice with affordable auto insurance for young drivers. All it takes is a few minutes for a quote online for cheap Texas insurance for young drivers. Or you can visit one of our offices in person or give us a call at (800) 401-6870.