New Year's Eve is getting close. This is the time of year when we always promise things will be different next year. However, have you considered making that promise to your car?
Whether or not you end up having a "happy new year" can depend largely on the health of your car. Therefore, this is the perfect time to start taking better care of your vehicle through better maintenance as well as finding affordable car insurance.
Ready to send your car into the new year in style? Keep reading to discover the best maintenance tips to help you take care of your car all year-round!
1. Get a Car Maintenance Checklist 
Car maintenance isn't really that difficult. Most Texas drivers just take their cars into the shop from time to time. Some drivers master their own maintenance moves. No matter how you approach maintenance, the most important thing is to remember to do it and keep track.
That's why we recommend investing in a car maintenance checklist. This has different events on it, including oil changes, tire inspections, and so on. You can use the checklist to mark important dates (for example, when you next need to change out your oil).
With a checklist, you don't have to remember all of those different maintenance dates on your own. You'll know what to do and when to do it to keep your car functioning at peak performance so you don't end up having to use your roadside assistance.
2. Change Your Oil Regularly in Texas 
The cornerstone of car maintenance is changing the oil. It's easy to learn how to do this on your own. Alternatively, even the smallest Texas towns usually have a number of different places that can help you change your oil.
How often should you change the oil, though? To know the exact number, you should consult the owner's manual for the car. The manual will also specify if your car needs any special kind of oil.
If you want to simplify the whole process, most places that change your oil will provide a sticker or paperwork specifying when you should come back in. By following these reminders, you can make sure your car always gets enough oil.
3. Monitor Tire Health for Driving on Texas Roads 
It's easy to accidentally overlook the health of your tires. However, to really get the new year started off right, we recommend you regularly walk around your car to inspect the tires, especially during the winter.
How do you inspect tires? For the most part, you just closely examine each tire and inspect for any possible changes. This might include worn-down threads or even punctures on the surface. By conducting regular inspections, you can determine when it is time to replace the tires.
Some modern cars keep track of your tire pressure. If your car doesn't do this automatically, make sure you monitor the pressure. This can help you avoid things like unwanted blowouts when you're driving around Texas in the new year.
4. Regularly Clean Your Car 
When we talk about car maintenance, many people assume this is all about popping the hood and checking the engine. However, regular car maintenance also extends to the exterior of your car. In short, it's important to have that exterior cleaned on a regular basis.
By regularly washing your car, you may be able to discover problems before they get out of control. If you don't want to wash your car yourself, you may be able to sign up for a car wash subscription in your area.
As an added bonus, washing your car like this helps to preserve its value. If you ever wish to sell or trade this vehicle, all that time washing it will really pay off!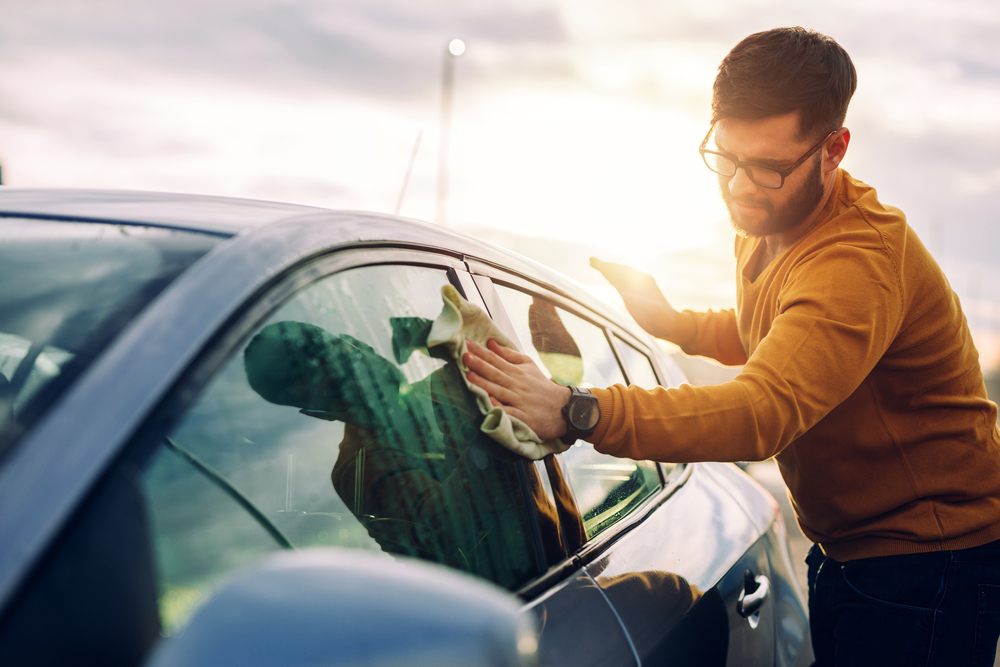 5. Always Have an Emergency Kit for the Unexpected in Texas 
The general goal of these maintenance tips is to keep your car from unexpectedly breaking down. However, it's important that you always have a backup plan in case something goes wrong while driving in Texas. That means you need an emergency kit inside your vehicle.
What goes into such an emergency kit? You should have non-perishable food, water, a rain jacket, a reflective vest, and a first aid kit. You also need a compass, a flashlight, spare batteries, a cellphone charger, and either flares or hazard triangles (they help make you and your car visible in inclement weather). Finally, your kit should include fire extinguishers, jumper cables, and a basic car tool kit.
As you can tell, the kit should be able to help you with everything from jumping the car to navigating in unfamiliar areas. Things like the reflective vest help keep you safe while you try to find someone who can help with your car.
6. Check Those Other Fluids 
You might have heard people talk about checking on "the fluids" of the car. But what are these fluids, and how often do you need to check and change them as part of your maintenance schedule?
We already covered the primary fluid: oil. You also need to check the transmission fluid, power steering fluid, and windshield wiper fluid each month. Check your brake fluid when you change your oil, and check on your antifreeze levels at least twice a year, since Texas winters can be unpredictable.
Remember to write everything down and set dates in your maintenance checklist so you don't forget to do anything!
7. Texans Should Clean the Interior Often 
When it comes to the exterior of the car, it's easy enough to run the vehicle through a carwash once per month or so. However, it can be harder to find the time and energy to properly clean the interior of the vehicle.
Still, cleaning the interior is very important. For example, cleaning stains can help preserve the value of your car. Throwing out things like half-drunk water bottles and cans of soda could even save your life!
With the famous Texas humidity, fluid in your car can lead to the development of dangerous mold. By cleaning your car regularly and paying special attention if you smell any mysterious new scents (this is a sign of mold), you can keep yourself and your car that much safer.
Protect Your Car with the Best Possible Insurance Coverage 
Now you know our top maintenance tips for your car. But do you know who is here to help protect your car throughout the year with the right insurance coverage?
If you'd like to get a car insurance quote online from Baja Insurance, you can simply request it. If you'd prefer, you can always come into one of our local offices and chat with us. Or if you're very busy, just pick up the phone and give us a call at 800-401-6870.