Do you feel a need to have the wind in your hair?
If you have recently purchased, or are looking to purchase, a motorcycle, finding the right insurance policy should be one of your top priorities. Motorcycle insurance can protect your investment and ensure you are covered in the case of an accident. Plus, it's the only way to legally drive in Texas.
As with auto policies, there are many different options available. You can choose to be fully covered (and you might have to if you have financed your bike). This offers not only the state-required liability, but adds comprehensive and collision to protect you financially. You may choose to go the cheapest route if your iron horse is fully paid for and purchase only the minimum. And there are other optional additions you can make to your package, such as roadside assistance and bike replacement.
How Much Does Motorcycle Insurance in Texas Cost? 
As with car insurance, that's going to depend on a number of factors. However, the average cost of full coverage motorcycle insurance in Texas ranges from $450 to $1,000 annually. That's quite a spread, but a lot depends on things such as your age, where you live, the type of bike you ride and, most importantly, your claims history and riding experience. The minimum state-required liability should average around $141 per year, or $12 per month.
As you look at what's best for you and your situation, here are 6 items to consider while finding the right coverage for your new motorcycle.
1. Know Your Coverage Needs for Riding in Texas 
Before you can actively seek out the right insurance policy for your new motorcycle, you will need a clear picture of the coverage you need. Your coverage needs will play a major role in determining the appropriate policy for your new motorcycle.
If your motorcycle is new, the cost of repairing or replacing it after an accident could be more than what is offered with most standard insurance policies. Thankfully, you have the option to purchase additional coverage that can pay for the full cost of repairing or replacing your damaged motorcycle.
The choices you make about your coverage will have a huge impact on your deductible. However, there are also choices you can make that could substantially reduce what you pay for an insurance deductible each month.
For example, you could opt for something less than full coverage when you select your policy. Carrying only liability insurance will significantly reduce what you pay each month.
Of course, this type of policy will also cover less should you get in an accident. Only you can weigh the pros and cons that come with the types of insurance available to you.
2. Look for Motorcycle-Specific Discounts 
Joining certain special interest groups might also help you find the right policy or even bring the cost of that policy down. When you join groups like the American Motorcyclist Association, you could benefit from discounted insurance rates in some cases. Not every carrier will offer insurance discounts to every motorcycle organization, so you must do your research.
Having a membership in motorcycle-focused groups could also give you insight you can't find anywhere else. Your fellow members could give their opinion about which insurance companies provide the best service.
3. Understand Texas Laws Around Riding 
The coverage you purchase for your motorcycle has to cover more than just your needs. According to Texas motorcycle laws, you must also meet the minimum levels required by statute.
The minimum insurance coverage according to state law includes:
$30,000 in bodily damage per person
$60,000 in bodily damage per accident
$25,000 in property damage
Compliance with these requirements is important. Not only do these minimum coverage levels protect you in the case of an accident, but there are also criminal consequences that can come with driving without insurance in Texas. If you cause an accident, your liability will help pay for the injuries sustained by the other parties.
Remember that the law sets minimum coverage levels for your liability insurance. That does not prevent you from carrying coverage above and beyond the minimum levels set by law.
4. Consider Your Budget When Purchasing Texas Motorcycle Coverage 
The right coverage is only one part of the equation. Due to new motorcycle costs, you must also balance the coverage you need with your budget. That is why you must weigh your purchase options with what you can afford.
It's best to secure multiple quotes from various insurers. Every carrier will have its own pricing structure and don't assume that their coverage is out of the realm of possibility for you. When you get quotes for a wide range of policies, you can determine which carrier offers the best coverage for your budget.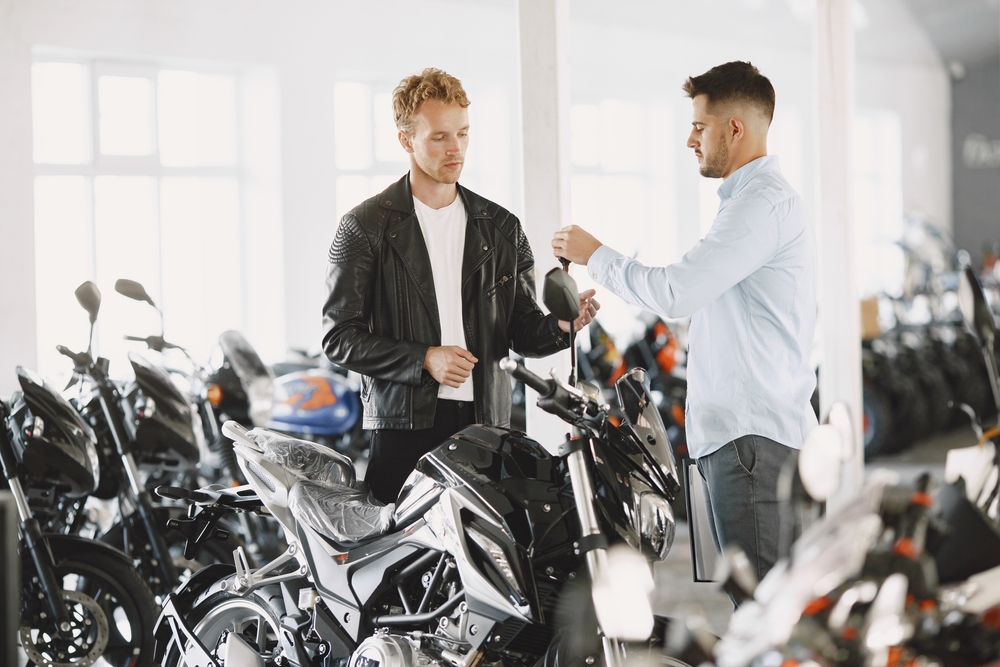 5. Texans Get a Large Discount for Bundling 
If you have multiple insurance needs, bundling your policies could make a lot of sense. Bundling could save you money on coverage for your new motorcycle but also for other types of coverage, including:
What is bundling? When you bundle, you purchase more than one type of policy from the same carrier. In exchange, your carrier offers a bundle discount that saves you money. This could represent a notable reduction compared to paying the full price for these policies.
Bundling is a strong option in that it offers you a lower price on something you were going to purchase anyway. Not only could you save on your premiums, but bundling policies through a single insurer will make managing each of these policies easier.
6. Do Extensive Research Before Purchasing Motorcycle Insurance in Texas 
There is no way to know all of your options unless your research is thorough. Before you select an insurance carrier in Texas, look at all the coverage options available. You might find that some offer similar policies while charging substantially more than their competitors.
Not all offerings are the same. The terms of each policy are unique, and some companies might offer additional coverage or benefits that are not offered by others. Look at all of your available options before making a final decision.
When reviewing your options, it helps to contact agents to get all of the details. Every carrier has its own set of discounts. You might be entitled to a discount on a new policy you didn't know was available.
Find Affordable Motorcycle Insurance in Texas Today 
Concerned about the cost of insuring your new bike? You might be surprised at how affordable insurance coverage for your new motorcycle can be. Speak with an independent agent at 800-401-6870, go online for a free quote, or reach out to the Baja Auto Insurance Texas office near you.