Buying a car can be exciting, but it can also be daunting. Other than what color and model car to get, you also have to consider costs, safety, and how much Texas auto insurance to obtain. With all the factors to consider, it may be easy to overlook one of the most important factors: whether the person you're buying your car from is trustworthy.
People are becoming more comfortable with making large purchases over the internet, and cars and trucks are no exception. After all, there's no reason to drive to a dealership with the internet, haggle with pushy car salespeople, and get pressured into deciding on the spot. During the time it takes you to shop for a car the traditional way, you can make a well-informed comparison of a variety of vehicles from the comfort of your home. However, the internet has also become a popular avenue for scam artists who prey on this group of car buyers.
Although many legitimate websites sell new and used cars, there are also online classifieds and social media listings that people use. Considering the significance of the investment, it can be quite nerve-wracking to conduct a transaction this way. Via those websites, you deal directly with the seller, so there isn't any entity necessarily policing your transaction. According to the FBI, some people sell cars that aren't even theirs to sell.
There are various car-buying scams out there, so make sure to do some research in advance before handing over any money, and watch out for these scams.
When Someone Sells a Car They Don't Own
Criminals can be quite brazen in their attempts to get money. One popular way to scam car buyers is to "sell" them a car they don't even own. They do this by posting photos and detailed descriptions of cars on the internet. They may also be very accommodating with a potential buyer's questions, making them seem trustworthy at first. They'll say all the right things and may even offer to sell the vehicle with a warranty or through a website's buyer protection program.
Once they have earned your trust, they'll send you a fake invoice that looks like it comes from a legitimate website or buyer protection program. One way to determine its legitimacy is by doing a reverse phone number search online to help you determine whether that phone number belongs to the website being used for invoicing you for payment. Don't assume that calling the number will give you any clarification, as the scammer will surely be the one answering the other line. In addition, they may ask for an odd form of payment, like gift cards.
When the Price Seems Too Good to Be True
If something seems too good to be true, it probably is. In particular, many first-time drivers might not be familiar with how much cars typically cost. It is important to realize that if a car is listed online at a low price compared to other listings for the same type of car, it's likely a scam. Generally, this type of fraudster lives outside of the country and will indicate that you need to pay an additional fee to have the car shipped to you. They will claim to arrange for shipment as long as you pay them via an online transfer of funds or money order. But when the seller gets the money, they don't ship the car as promised. Such scammers are often difficult to find, using accounts that are difficult to trace.
When Someone Offers to Pay Too Much for a Car You're Selling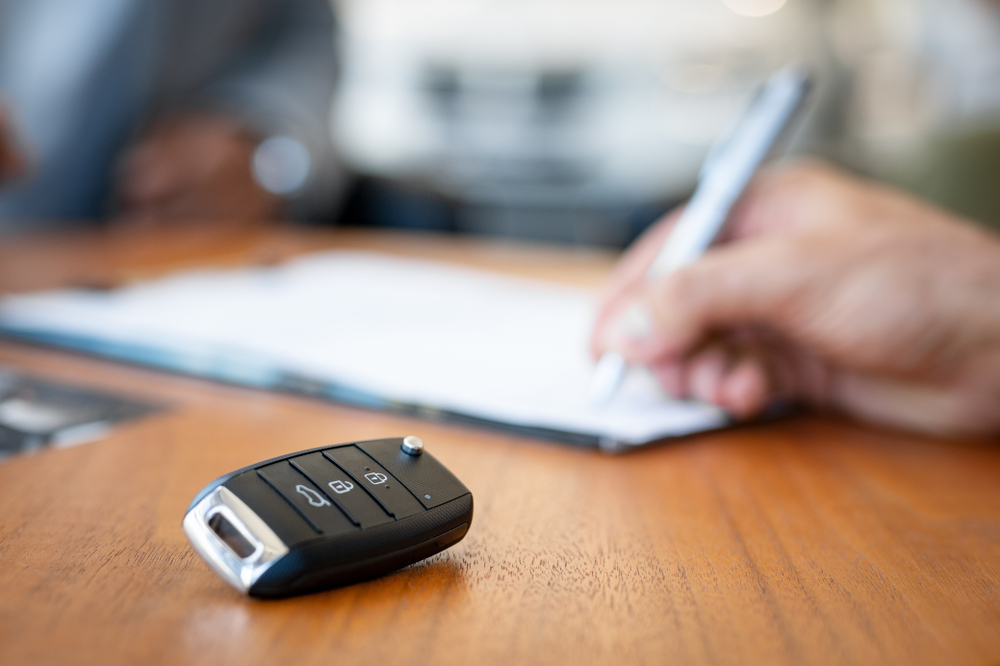 There are also scams targeting sellers of cars. Let's say you've listed a car for sale online, and you're thrilled to be contacted by a potential buyer. However, you live in Houston, and the buyer lives across the country or even overseas, so it will cost extra to have the car delivered to them. They indicate that they'll send you a cashier's check for the cost of the car, which is $20,000, plus extra funds to cover shipment or delivery of the vehicle. Let's say that the shipment cost is $5,000. Once you receive the cashier's check for $25,000, you're told to deposit it and immediately wire the extra $5,000 back to them so that they can pay for the vehicle's shipment costs upon delivery.
One problem with this. Besides the fact that the buyer never intended to purchase the vehicle, the cashier's check comes from an account with insufficient funds. But you immediately wired $5,000 to the buyer before the check had a chance to clear. This would leave you out $5,000, plus any extra fees if you didn't have $5,000 in your account to begin with.
When They Use a Fake Escrow Service
Scammers know that buyers are hesitant to send large sums of money to people they don't even know. As such, they will tell the buyer that they'll hold the funds in an escrow account until the buyer is satisfied with their purchase. The buyer will give
the money to what they think is an escrow service but is actually the seller's account. However, the car is never shipped, and the buyer loses the money they sent to the fake escrow account. The cars being sold under these scams are typically under market value, so that's one red flag to watch for.
Tips to Keep in Mind When Buying or Selling a Car Online
To avoid some of the most common car-buying and selling scams, keep these tips in mind:
Don't ever agree to wire transfers or bank-to-bank transactions.
Try to buy and sell locally instead of agreeing to transactions where the other party is located far away or internationally. If they can't meet you in person or simply refuse to meet you in person, they could be scammers, and the transaction might be too risky.
If buying a car directly from a seller, don't buy it without seeing it in person or having it inspected by a mechanic. Even if the seller offers you a vehicle history report, it could be fraudulent.
Do not transfer the title of a car you're selling until the buyer's check has cleared. Even if funds are made available by the bank at first, the check could still turn out to be counterfeit. Contact your bank or the buyer's bank to ask about their timeline for clearing checks.
Don't assume a transaction is guaranteed just because it is being conducted via a common online marketplace.
Be cautious of buyers and sellers who want to close out the sale quickly. Rushed transactions don't allow you proper time to have a professional examine the car or to ensure funds have cleared.
Trust your intuition. If your gut is telling you that something seems suspicious, it very well could be.
If you're involved in an online car-buying scam, be sure to report it to your authorities as well as the National Consumers League Fraud Center or the Federal Trade Commission's fraud reporting system.
Baja Insurance Is Your Partner Through Thick and Thin
Other than your home, your car is likely your most significant investment. Let Baja Insurance guide you when choosing a car online and protect you and your car throughout your future journeys. Get your quote online, call us, or visit us today!