When summers in Dallas/Fort Worth often mean triple-digit temperatures, it's only natural that everyone wants to stay inside as much as possible. Once cooler temps arrive, it's a different story. People are ready to get out and drive. Before hitting the road, make sure your car is in good shape with regular maintenance and your car insurance is up to date.
Fall is a wonderful time of year in Texas. Just like with spring road trips, the cooler weather makes it perfect for exploring all the outdoor treasures that your state has to offer.
So, where to go? Here are five amazing fall getaways in Texas that you won't want to miss.
1. Daingerfield State Park 
When you're looking for some time in nature, it's hard to beat Daingerfield State Park. Inside the park is the East Texas Pineywoods, appropriately described as a "cathedral of trees."
Daingerfield State Park has it all: camping sites (both tent-only and RV sites with hookups), cabins, boating, and hiking trails. You can even borrow some fishing equipment and try your luck on the park's 80-acre lake — no fishing license required.
If you encounter unexpected inclement weather, the nearby town (also called Daingerfield) has stores and restaurants to keep you satisfied.
Dangerfield State Park is less than a three-hour drive, which makes this park easy to get to as well as popular. If you plan to stay overnight, it's highly recommended that you make an advance reservation.
2. Oktoberfest in Fredericksburg 
If you thought Oktoberfest happened only in Germany, think again! German immigrants who settled the Texas hill country over 150 years ago brought their language and customs that survive to this very day — including the iconic southern German fall festival in Fredericksburg.
And, by the way, Oktoberfest isn't all about beer. While there are certainly kegs galore, there's also the food (bratwurst and schnitzel, anyone?), live music, a kids' zone, and even a yodeling contest.
Driving down from Dallas/Fort Worth, you'll encounter plenty of scenic wilderness along the way, such as Colorado Bend State Park and the Enchanted Rock State Area. There are also several towns for rest stops, though you should always have a roadside assistance plan to help when the unexpected happens.
If you're looking for an extended getaway that the whole family will love, you can't go wrong with Oktoberfest in Fredericksburg.
3. Devil's Backbone 
Rising above the Texas hill country is the Edwards Plateau, where eroding limestone forms a ridge known as the Devil's Backbone. The stark white walls make for one of the most beautiful drives in the state and offer views of the 400-mile-long Balcones Fault.
The odd name for this ridge dates back to the Civil War and was the site of a major battle. Since then, local residents have been reporting shadowy figures on the ridge. Those who don't scare easily will want to visit the nearby Devil's Backbone Tavern, where visitors can enjoy a good meal while learning about the area's haunted history.
The loop drive begins at Johnson City. From there, drive south on US-281 through Blanco. Then, turn left onto Farm Road 32, which brings you to the ridge itself as well as the Devil's Backbone Tavern. Next, turn left onto Farm Road 12, which takes you through Wimberley. Finally, heading west on Farm Roads 2325 and 165 will bring you back to Blanco and near where you started.
If the timing works out, you won't want to miss a sunset on Canyon Lake, one of the deepest lakes in Texas (just be careful afterward when driving at night)
The entire drive is fairly short — about 1.5 hours — making it the perfect day drive, especially on your way to other fall events like Oktoberfest in Fredericksburg. But if you want to make a longer trip of it, the nearby town of Wimberley offers charming cafés, antique shopping, and cozy inns.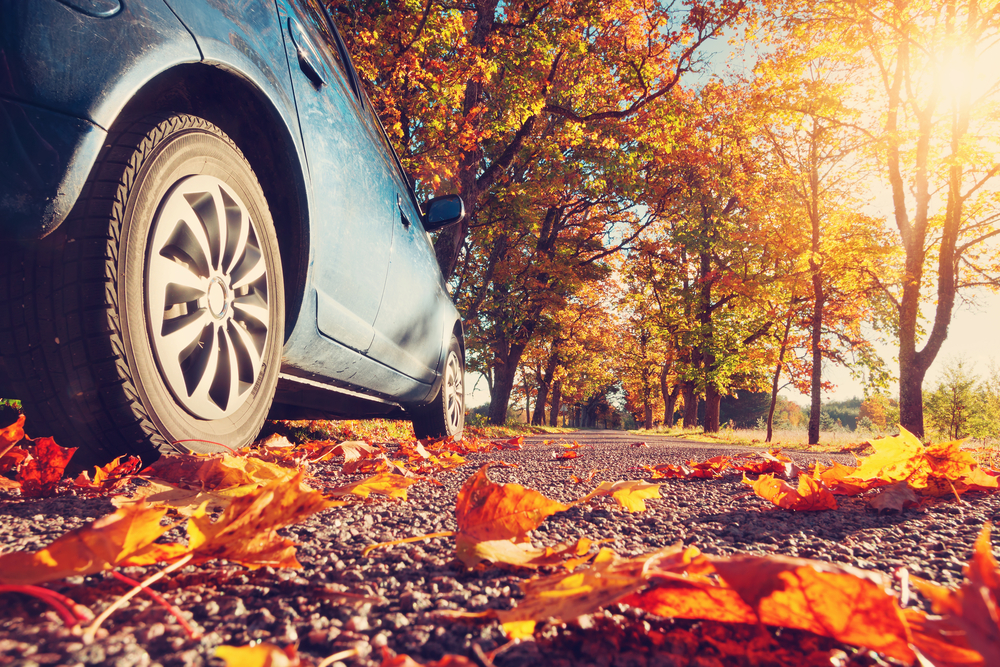 4. The Twisted Sisters 
For the Texas motorcycle enthusiast, the Twisted Sisters ride offers all the twists, turns, and excitement you could hope for on a bike ride. It's simply the perfect fall getaway ride before putting your bike away for winter.
The Twisted Sisters loop, which starts in Medina (just west of San Antonio), is considered to be one of the most challenging motorcycle roads in Texas. Over 100 miles of canyons, jagged hills, sudden drop-offs, and, of course, plenty of twisty curves keep your riding skills sharp. One 15-mile stretch of the loop alone boasts 65 curves.
Besides the excitement of the ride itself, bikers will be rewarded with stunning panoramic views of the Texas hill country. There are several pit stops along the way, but you'll still want to remember to fill your fuel tank before heading out.
Enjoy the ride, but always drive safely!
5. Big Bend National Park 
If you ask someone to name the most beautiful national parks, chances are that they'll think of Yellowstone, Yosemite, or the Grand Canyon. But did you know that there's an amazing national park right inside Texas?
Established in 1935, Big Bend National Park gets its name from the major bend in the Rio Grande, which suddenly curves from flowing southward toward the Gulf of Mexico to flowing northward toward Dallas/Fort Worth. The 800,000-acre park is the largest protected area of the Chihuahuan Desert and is home to over 1,200 species of plants and almost 600 species of unique birds, mammals, and reptiles.
The park offers hiking, camping, river running, and scenic drives — all in "splendid isolation," truly away from it all. If you want to stargaze, observe the local wildlife in their natural habitat, or simply take in the gorgeous desert setting, this is the place for you.
Big Bend National Park isn't just for nature lovers. History buffs will appreciate the park's rich cultural history, with archaeological sites that date back as recently as pioneer times and as far as 10,000 years ago.
It's a long drive to Big Bend from the Dallas/Fort Worth area, but if you have the time to take a few days for a road trip, it's definitely worth the trek. Before heading out, make sure your car is in top shape to avoid problems along the way.
Make Sure Car Insurance is on Your Texas Road Trip Checklist 
As you pack your bags, don't forget that car insurance is a must-have when you're going on a road trip in Texas. After all, without car insurance, you won't be able to get on the road at all. At Baja Auto Insurance, we help drivers in Dallas/Fort Worth find the insurance they need at an affordable price. All it takes is a few minutes for a quote for cheap car insurance in Dallas/Fort Worth. Or you can visit one of our offices in person or give us a call at (800) 401-6870.