Winter and the end of daylight savings time mean more driving in the dark for Fort Worth drivers. While it's nice not to have to worry about the sun in your eyes, driving at night brings its own challenges and risks. Finding cheap car insurance should not be an additional worry.
So, how can Fort Worth drivers stay safe when driving in the dark? We've put together a list of five essential tips for driving at night in Fort Worth.
1. Keep Your Car Registration and Insurance Current 
Although it's illegal to set up DWI checkpoints in Texas, police officers on duty are still extra vigilant of night drivers. That's because drivers at night are more likely to be intoxicated, tired, or reckless. And if you're pulled over by a police officer for anything, whether it's for a warning or driving recklessly, you'll be asked to show proof of insurance coverage.
If you're caught driving without car insurance in Texas, you can face up to $300 in fines, and your license could be suspended. If that happens, then you'll need to file an SR-22 certificate of financial responsibility before you're allowed to drive again, meaning higher insurance rates for years to come.
Driving without car insurance or an up-to-date registration in Fort Worth might seem like a cheap option, but the truth is that you'll get caught sooner or later. So don't take the risk.
2. Make Sure Your Lights Work
If you drive a lot at night, it's worth checking your lights regularly to make sure they work. If you turn on your headlights and step out of your car, you should see both headlights on, as well as both red taillights in the back. Ask a friend to help you check your brake lights. When you tap your foot on the brake, your red taillights should glow brighter, and the red light on the rear window should turn on.
If you notice that any of your lights aren't working, take your car to a trusted mechanic to get your lights replaced. Not only is driving without a complete set of working lights unsafe, but it could also lead to a ticket and fine of up to $200 in Fort Worth.
3. Use Your High Beams Only When You Need To 
Your high beams are great for giving you extra visibility at night. It also makes your car more visible to other vehicles and pedestrians. But use your high beams carefully. If you see another car driving in the opposite direction or if you're less than 200 feet behind another car, switch to your low beams (your regular headlights). The intense light can make it harder for other drivers to see in the dark, and you may be putting both them and you in harm's way.
If you're driving within Fort Worth or another city or suburb, then the chances are that the streets and highways are already well lit, and you don't need your high beams. But a good rule of thumb is to use your high beams when you can't see more than 200 feet or half a city block in front of you.
If you're driving on a highway at 60 miles per hour, use your high beams if you can't see more than 2 seconds ahead of you in fair weather. You should never use your high beams when driving in rain, fog, or snow. That's because the light from your high beams is more likely to reflect toward your car and actually make your visibility worse instead of better.
4. Keep the Lights Down Inside 
It takes time for the human eye to get used to seeing in the dark, and bright lights from any source can completely disrupt your night vision. While driving at night, keep the lights inside your car to a minimum. That means turning off the overhead light and dimming your navigation screen if you have one.
If you're driving with a passenger who can't stop looking at their phone or tablet screen during the drive, don't be shy about asking them to turn down the brightness. After all, it's to keep them safe, too.
Quick tip: If the lights on your speedometer and instrument panel seem brighter than usual, it could mean that you forgot to turn on your headlights. If they're still too bright with the headlights on, then there's usually a dial left of the steering wheel to adjust the brightness.
5. Stay Awake and Alert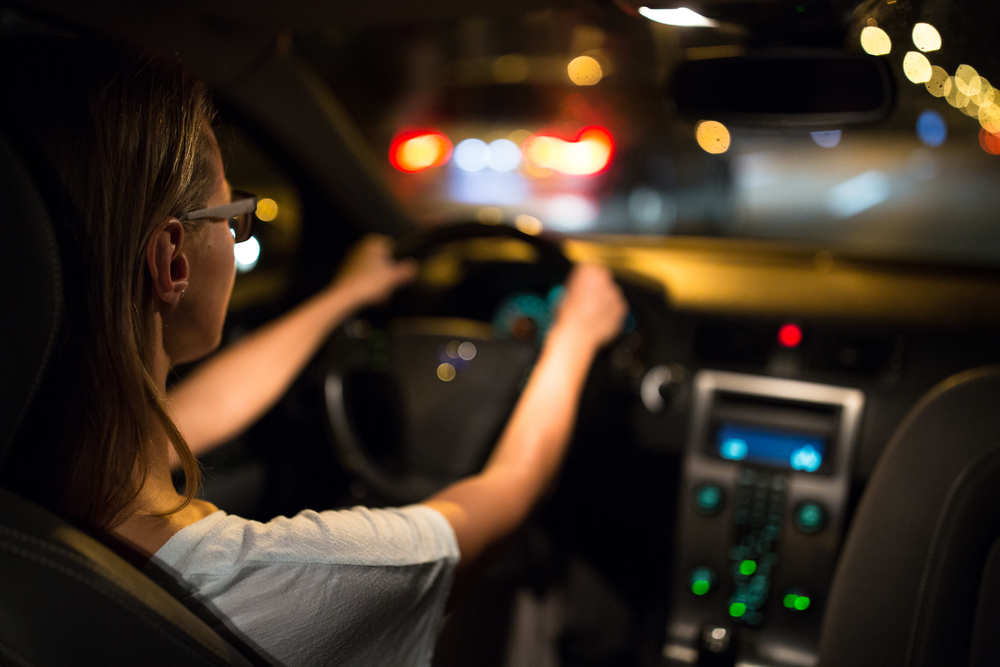 Before you start driving at night, it's critical to make sure that you'll be able to stay awake for the whole trip. Unlike day driving, people are less willing to drink coffee or energy drinks before hitting the road because they don't want to stay up all night. So, before getting behind the wheel, ask yourself: How long have you been up? Have you been yawning and feeling like you want to nod off? If you have a long highway drive ahead of you, don't ignore the symptoms of drowsiness. All it takes is a second of sleeping behind the wheel to put yourself and other drivers in grave danger.
If you're driving with someone else, ask if they're comfortable driving instead. Or if you don't live far away, take a cab home and come back for your car the next day. And, in the worst case, find a hotel to stay the night before you continue home. There are hotels all over Fort Worth, and the cost of one night is worth it if the alternative is a ticket for reckless driving or, even worse, causing a car accident.
Protect Yourself When Driving at Night in Fort Worth, Texas 
If you follow these tips for driving at night in Fort Worth, you'll be a safer driver to yourself and others. But the best way to protect yourself, your family, and your car when the unexpected happens is to make sure you have the right car insurance.
At Baja Auto Insurance, we work with you to make sure you have the best affordable car insurance in Fort Worth. All it takes is a few minutes to get a free quote for cheap car insurance in Fort Worth. Or talk to one of car insurance experts in person at one of our offices, or give us a call at (800) 401-6870.