You've done a great job getting your teen ready for college. You've helped them register for classes, bought their books, and even secured their housing. But have you thought about renters insurance?
You know that your car insurance policy has been covering your child ever since they started driving. Does renters insurance work the same way?
Do Texas College Students Need Renters Insurance? 
Maybe. It depends on your college student's living situation:
If your college student is under 24, a FT student and lives in a dorm on campus, then about 10% of your home insurance policy most likely extends to your child.
If your college student lives off-campus, then they'll need to have their own renters insurance policy.
Let's explore these situations in detail.
Renters Insurance for On-Campus College Students in Texas 
If your child is living on campus, such as in a dorm or sorority/fraternity house, then there's good news. Your existing homeowners or renters insurance policy will probably cover your child's personal belongings. However, there are a few things to consider first.
Typically, home insurance policies cover family members in your household, including your child (as long as their primary residence is still your home). Many policies also cover personal items when you take them outside your home. This is known as "off-premises" coverage, and it will likely apply to your college student's belongings.
Your home insurance policy will specify the limits of off-premises coverage, usually as a percentage of total coverage. So, if your policy limit is $30,000 for personal property coverage and your off-premises coverage is 10%, then your insurance company will cover up to $3,000 of your college student's personal property. Keep in mind that off-premises coverage is really meant for cases when you temporarily bring property with you, like bringing your laptop to a coffee shop or your tablet on a trip. That's why the coverage limits are much lower compared to your overall policy.
In short, your home insurance will likely cover your college student's belongings. However, you'll need to talk to your insurance company to confirm this as well as to make sure your policy will provide enough coverage for everything your child is bringing to college.
You may need to add endorsements if you want more coverage than the normal allowance.
Remember, if you file a claim on your home insurance, it may raise your premium. Therefore, it is prudent to compare paying for the cost of replacing a lost or broken item yourself to the potential raise in home insurance premium if you file a claim. Also, in many cases, your home insurance deductible may be higher than the value of a lost or broken item.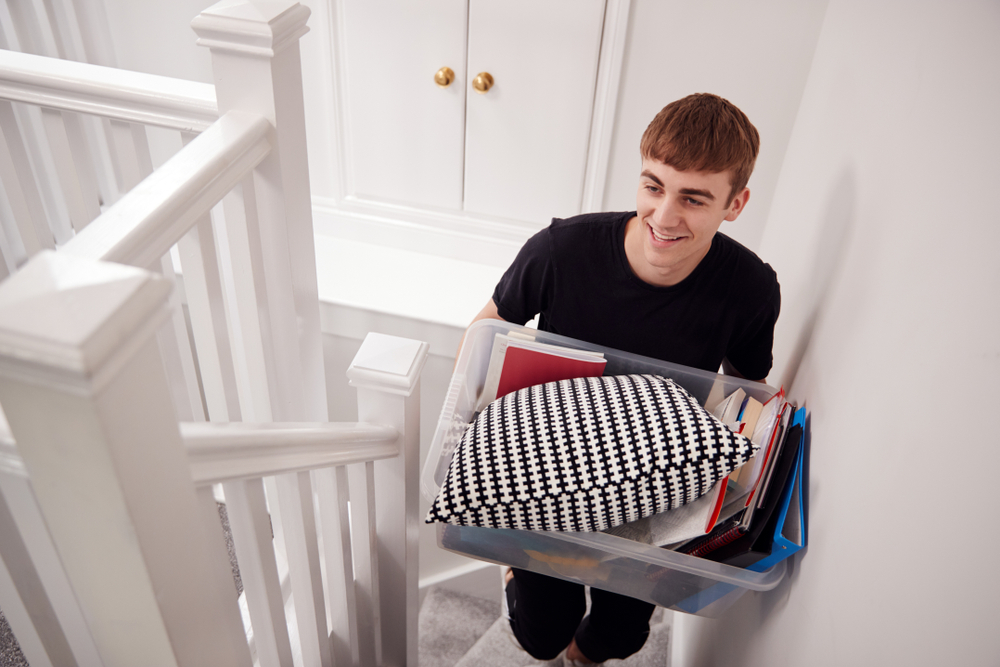 Renters Insurance for Off-Campus College Students in Texas 
If your Texas college student is living off-campus, then the situation is completely different, especially if your child signs a lease. At that point, your home insurance company will no longer consider your child to be part of your household, and they'll have to get a separate renters insurance policy to protect their belongings. In fact, your college student may end up needing renters insurance if it's required in their lease agreement.
But having a separate renters insurance policy isn't necessarily a bad thing. A separate insurance policy means that your child will benefit from liability coverage, loss of use coverage, and other renters insurance benefits that go beyond personal property coverage.
Having a separate renters insurance policy for your college student is also cheaper than you think. First of all, your current home insurance company will likely offer you a special discount if you bundle your policies. You also won't need as much coverage as your current policy — you just need enough to cover the value of your child's belongings. In fact, when your child moves into an apartment, it's a great time for you to adjust your own home insurance policy since you won't need as much coverage anymore.
One thing to keep in mind is that your college student's renters insurance policy should cover just their own personal belongings. While it's possible to save a little money by adding roommates to your policy, you may end up paying more in the long run if your roommate makes an insurance claim when the policy is in your name.
Affordable Insurance to Cover Your College Student in Texas 
Whether your college student is moving into a dorm or renting an apartment for the first time, you need to think about how to best insure their belongings against fire, theft, vandalism, and other surprises. At Baja Auto Insurance, we help families all over Texas find the insurance they need at an affordable price. Give us a call at (800) 401-6870 to speak with a knowledgeable agent, stop by one of our locations or check out your options for home and renters insurance online.