Dallas and Fort Worth are well known for soaring temperatures in the summer, but Texas also hosts freezing days and nights during the winter months. So, when the temperature drops, you'll want to follow these six tips on how to survive a cold snap in Dallas and Fort Worth, while also making sure your car, as well as your car insurance, are ready to fight the cold.
How to Survive a Cold Snap in Dallas and Fort Worth 
To survive a cold snap in Dallas and Fort Worth, we recommend following these six simple tips:
1. Get the Best Cheap Car Insurance in Dallas and Fort Worth 
Accidents are more likely to happen in cold, icy weather, and car insurance companies understand how bad weather affects car insurance claims. It makes sense to have collision insurance, as well as comprehensive insurance, to protect your car if it's hit by a fallen tree branch or utility pole. Full coverage provides the right protection for your car, your family, and your property during all types of weather. 
2. Check Your Tires 
Tires tend to deflate in colder weather, so make sure that they're at the proper pressure before hitting the road. While you probably don't need snow tires in Dallas, you should check the tread on your tires before driving in cold weather or other bad road conditions.
You can easily check your tires' tread using a quarter. Stick an upside-down quarter in between the treads on your tire. If you can fully see the top of Washington's head, then your treads are too worn, and you should replace your tires.
While you're checking your tire treads, also check for debris such as nails that may have pierced your tires. Many insurance companies will cover damage like this with a tire hazard protection plan.
2. Get Your Car Prepped 
When you do need to head out on the road, make sure your car is as ready as you are. Invest in a good ice scraper to clear away frost and ice on your windshield and rearview window to give yourself as much visibility as possible while driving. Don't use hot water to melt ice on your car windows. The sudden change in temperature can crack your windows, and the extra water can easily freeze into even more ice.
Once you start your car, all you need is a few seconds to warm it up before you can start driving. Contrary to popular belief, you don't need to wait for your car to fully warm up before you can drive it in cold weather.
3. Drive Carefully 
One of the most important tips we can offer is to drive carefully during a cold snap in Dallas and Fort Worth, even when the conditions are clear. In particular, avoid black ice, which are icy patches on the road that look like water or puddles. Driving over black ice can make you suddenly lose control of your car.
Give yourself extra distance between yourself and the next car because icy roads make it harder to brake effectively. You should also slow down at curves, where icy conditions can cause skidding and loss of control. Always apply your brakes before the curve — once you're driving on the curve, it's too late to brake.
And remember that even if you're a careful driver, accidents happen. That's why we also recommend adding a Texas roadside assistance plan so that help is always just a phone call away.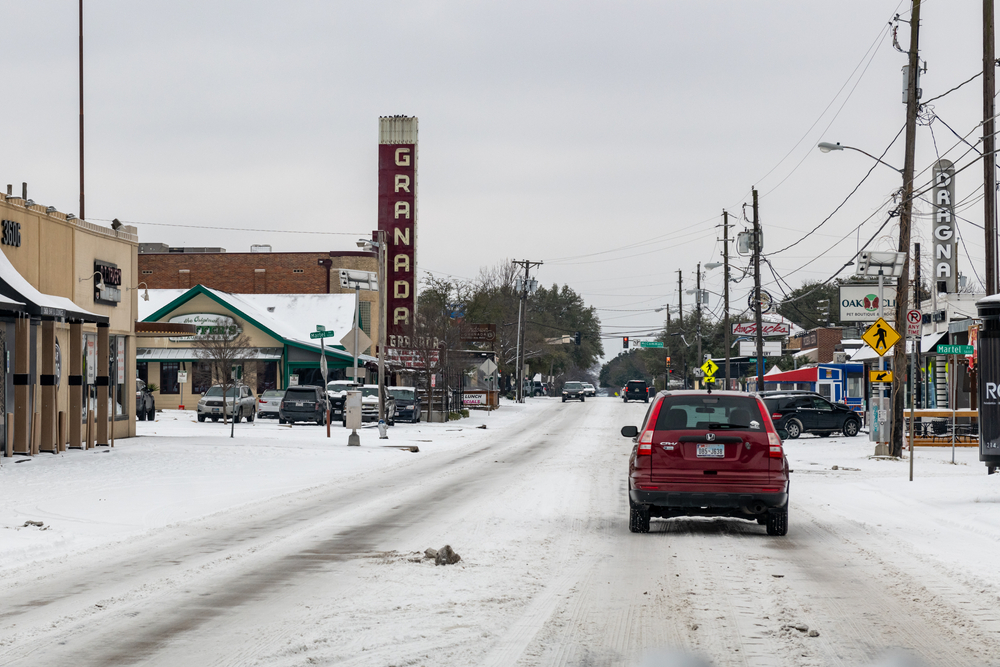 4. Leave Your Faucets Dripping 
When the water in your pipes stands still for too long in cold temperatures, it can freeze. And since water expands when it turns into ice, a frozen pipe can mean a burst pipe. Sure, most Texas renters insurance policies cover damage from burst pipes, but who really wants to deal with uncontrollable water damage?
The solution? Leave your faucets dripping to keep water flowing in the pipes and prevent them from freezing.
5. Stock Up on Necessities 
If there's frigid weather coming to Dallas and Fort Worth, chances are you'll know about it ahead of time. Keep an eye on the weekly weather forecast, and plan to head to the supermarket to get enough food and necessities to last the weather. That also includes medication and other critical items that you need every day.
In this manner, you can limit your time on the road during the cold snap itself and reduce the chances of a collision in icy conditions, especially when driving at night. 
If there's a serious winter weather system heading to Dallas and Fort Worth, then you'll also want to prepare for the possibility of no power. Fill your bathtub with water for bathing and toilet flushing. Get out the blankets and flashlights and find some board games or puzzles to help stave off boredom.
6. Heat Your Home Smartly and Safely 
Texans in Dallas and Fort Worth are experts at keeping their homes cool in triple-digit temperatures. But when the temperature drops during a cold snap, you'll need to be a home heating expert, too.
Fortunately, a few of the same things you can do to cool your home better help you to heat your home better, too: sealing ductwork, insulating and sealing attics, and keeping your air filters clean. But rather than keeping blinds and curtains closed during the day, you'll want to open them to let in as much sunlight as possible. If you have ceiling fans, switch them to reverse, that is, moving air upwards instead of downwards. This helps to redistribute warm air that stays stuck near the ceiling.
What's the Best Cheap Car Insurance Dallas Texas Drivers Need? 
When the temperature plummets in Dallas and Fort Worth, you'll want to make sure you are ready. Staying ready also means making sure you have the best cheap car insurance quotes to protect yourself and your car.
At Baja Auto Insurance, we help Dallas and Fort Worth drivers find cheap car insurance, no matter their driving history. All it takes is a few minutes to get an online quote for cheap car insurance or you can stop by one of our offices or give us a call at (800) 401-6870.