The winter celebrations are around the corner, and some families are already preparing holiday travel plans. Parents traveling by road with young children should run a car seat safety check. Children outgrow their infant child seats quickly. Make sure they are safe with a seat that fits their age, size, and weight. Here are a few tips on car safety seats to buckle up for the holiday season.
Child Safety Seats Make a Difference
According to the NHTSA, up to 37% of all children that died in car crashes in 2017 were unrestrained. Installing the right seat is the easiest way to protect your children from harm in a car crash, but finding the right one can be tricky. There are many options, and not all of them work the same or support the same children.
Types of Child Safety Seats
There are rear-facing, front-facing, and booster seats. Rear-facing seats are designed for the youngest, smallest children. In case of collision, these seats absorb the bulk of the impact while preventing neck whiplash and other severe spinal and head injuries.
Front-facing seats use a harness that works like a small seatbelt. A forward-facing seat keeps the child from crashing into the front seat at the vehicle's speed in a frontal collision.
Booster seats ensure that the seatbelts properly fit around children. There are many options for child seats out there, so make sure you get the right type before hitting the road this winter.
Child Safety Seats are Mandatory by Law
The use of child safety seats is mandatory nation-wide to guarantee car seat safety, but each state has its car seat laws. For instance, California law requires that children under the age of two ride in a rear-facing seat unless they weigh over 40 lb or are more than 3'4″ tall. If your child exceeds these dimensions, it is time for a forward-facing seat.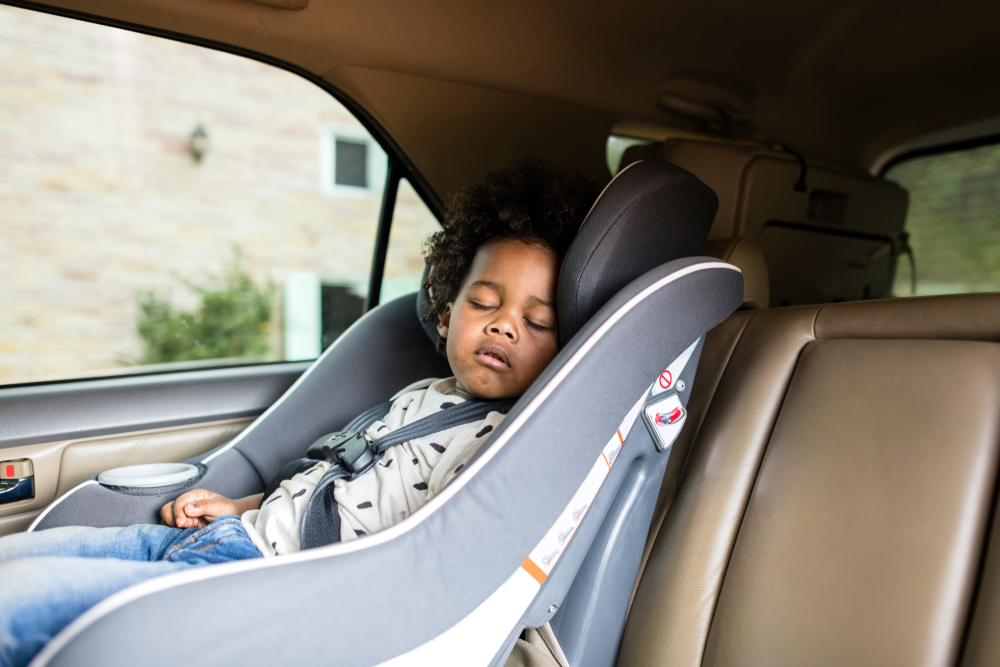 If your child is older but does not exceed the dimensions, there is no rush to upgrade her/him to the front-facing seat. Children who are older than eight years of age or taller than 4'9″ can use booster seats.
In any case, all children under the age of eight must ride in the backseat. If you plan to travel to another state for the holidays, remember to check the local laws on booster seats and other car seat safety requirements beforehand.
Where and How to Install Child Safety Seat
When shopping for a child safety seat, you might start asking yourself questions like "Is child seat safer behind passenger or driver?" or "Can you put a seat behind the driver?". Here are a few answers: Some studies have found that the back seat's center is the best place to install a seat. If this isn't possible, try behind the passenger seat so you can take the child in and out of your car on the curbside instead of the roadside.
Read the User's Manual of the Car and the Seat
If you're looking for a child safety seat, you might have already realized that there are various brands and latching systems. While some booster seats depend on seatbelts to stay in place, other safety seats rely on ISOFIX or LATCH anchoring systems that lock to the chassis.
Check your car's user's manual before buying anything. You can usually find information on your car's anchoring systems in the seat specifications section so that you can make an informed purchase. You should also closely follow the seat's instructions to ensure that it's installed correctly. Protecting your child in case of a car collision can be as easy as purchasing the right child safety seat and installing it correctly.
Another way to ensure your family's safety is by making sure you have the best car insurance coverage for your needs and budget. Start your free Texas car insurance online, over the phone, or at one of our offices near you.